Category: Packaging
Work title: BANDiful
Country: United States
Info
Biography
Before Vivi fell in love with beautiful design using 26 alphabets in New York City, she was born and raised in China, scribbling Chinese characters. With a passion and curiosity for discovering design in western culture, she studied Communication Design at Pratt Institute, and has recently graduated with honors. While in and out of school, Vivi trained herself through various intern and freelance experiences, for companies like SONY, Landor, Interbrand and Pentagram. To Vivi, design is always challenging and interesting. She appreciates the smallest of details, thinks big, and empowers practical changes. Vivi has steadfast faith, that good design is derived from a genuine understanding of human nature. She believes that meaningful design brings people closer. Vivi is dedicated to becoming a bridge that connects our everyday life, with beautiful and functional design.
With a Masters degree in Package Design, Yu Ping Chuang has experience as a graphic designer in print and packaging. She has experience working with studios such as RoAndCo, Aesthetic Movement and Miller Creative. Yu Ping's Taiwanese background has influenced her design in both a conceptual and aesthetic way. She's always been passionate with packaging ever since she was a child. Whenever her mother would go to Japan for a business trip, she will bring candies as a gift. Yu Ping was amazed by the paper made packaging printed with traditional Japanese patterns and a golden emboss on it. She was only 8 years old, and she knew at that moment what she wanted to do when she grew up. She wanted to be able to create packaging that would touch people's heart. Yu Ping later came to New York to study packaging design at Pratt Institute. The experience of western cultural inspired her to be always innovative and creative.
Description
Applying a bandage using a single hand can be challenging, especially when both hands are injured. BANDiful tries to solve this problem by applying a special structure to avoid extra steps, when unwrapping bandages. Not only does BANDiful offer a functional benefit, but also enables a new personal experience when using the bandage. Incorporated with a hanger on top of the package, the consumer can conveniently hang BANDiful on the wall or near their desk.
Communication Objective
With medical products, excess packaging can create problems for the consumer. Medical products are normally difficult to open and not convenient to use. Normally people use bandages for small wounds, but if the packaging also provided a convenient user experience, it could engage an emotional comfort. After studying existing bandage designs in the market, the team was able to design a more accessible package. With their new design, there is only one motion required to unwrap the bandage.
Tools used
Adobe Illustrator to finish graphic elements, Adobe Photoshop for rendering
Adobe Tools
Creative Cloud Membership
Acrobat 9 Pro
After Effects CS5
Creative Suite 4 Design Premium
Designed by: Vivi Feng, Yu Ping Chuang
Pratt Institute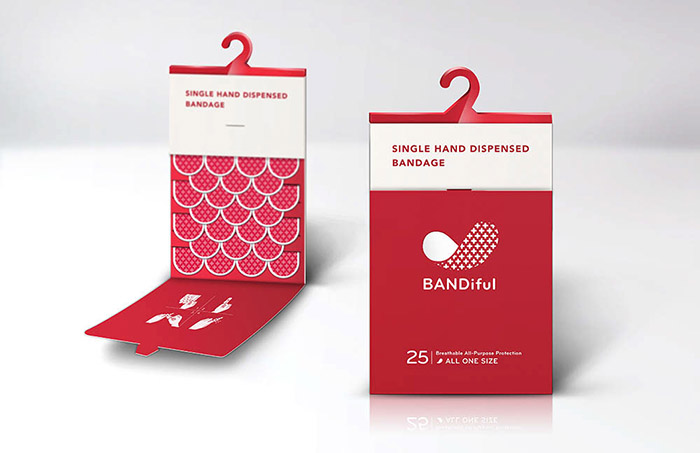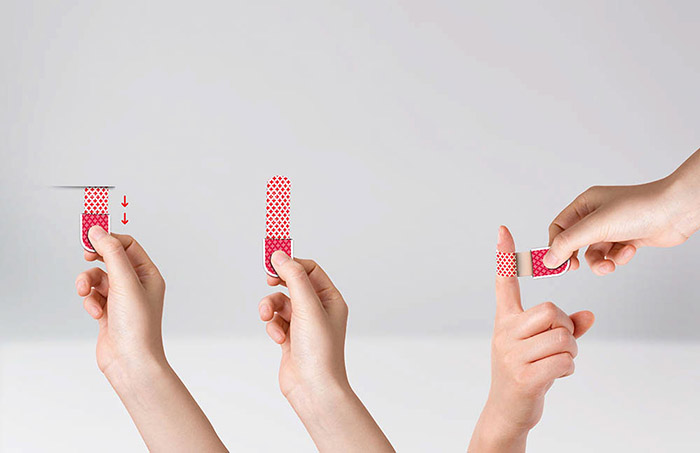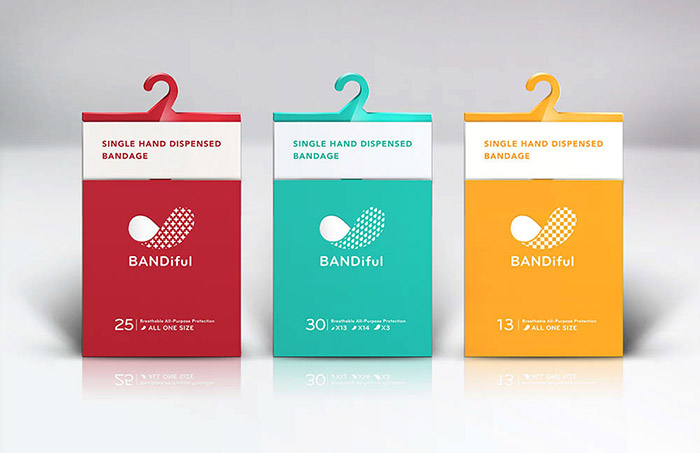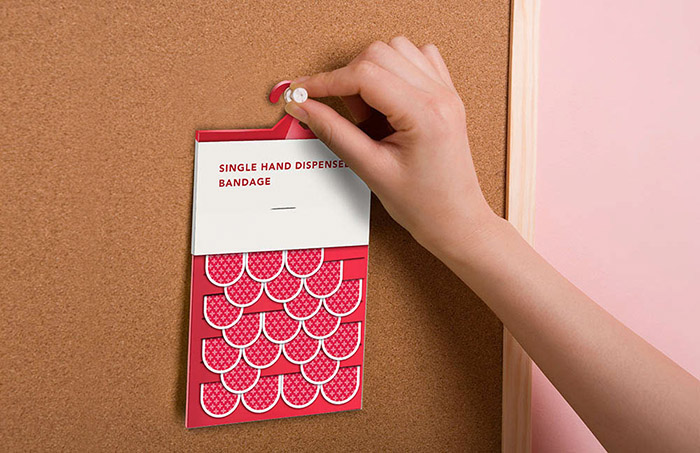 related

posts